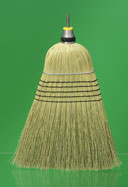 Worldwide Integrated Resources, Inc. produces some of the most innovative products in the cleaning industry. A collection of U.S. patents, covering more than ten products, bears testimony to our firm commitment to meeting the World's cleaning needs. We are continually innovating cleaning products year after year.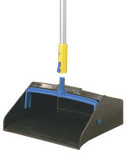 Worldwide Integrated Resources, Inc. leads the industry as an innovator and now as an environmentally aware company. Our new Save The Stick™ program is an effort to make conservation a more integral part of our lives and the way we do our cleaning. Worldwide Integrated Resources, Inc. introduces this program to our ever expanding line of innovative products.
Our Save The Stick™ program, currently available with our Lobby Dust Pan, Corn Broom, and Quick Change® Mop, which allows you to unlock the removable used part, and then lock-on a new refill. This not only allows you to recycle the stick for future use but also makes changing the refill an easy task.