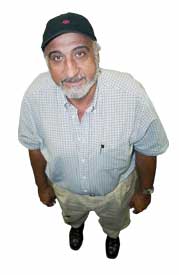 Worldwide Integrated Resources, Inc., a manufacturing company, was founded in 1990 by Fred and Susan Morad, also the founders of Clean Sweep Supply Co. Inc, a distribution company which was founded in 1978, in a small warehouse space in Glendale, California.

In 1990, after making his first trip into Mainland China, Fred discovered many possibilities in that country that stirred his creative imagination. As early as 1981, he had been working on developing a rotary plastic block for floor machines that integrated the clutch-plate in the mold, thus eliminating the metal clutch-plate used in wooden rotary floor block and using waste plastic as its main component. This project was an idea way ahead of its time although it never went into production due to high costs and unproved benefits. Today you now see this plastic rotary block used throughout the industry, proving this original idea to be sound.

Having worked in China, Fred realized that this was the place where he could start to produce new cost-effective innovations. He started developing new ideas and is a leader of innovation (he presently holds over 4 dozen U.S. Patents). Although he is still producing products in China, after a major restoring initiative, most manufacturing is back to the USA.

Worldwide has the capabilities for production in the following manufacturing categories: plastic injection molding, progressive metal stamping, broomcorn processing and broom making, sewing workshop facilities, facial tissue and tissue paper converting, bar soap and related surfacant products. We produce exclusive products for the cleaning industry, pet industry, vending machine industry, medical industry, and painting industries among many others.

We take pride in developing generic and proprietary private label products. We work from blueprints, prototypes, and manage production runs in an efficient professional manner. We expedite orders as required by our customers. We develop our own tooling to our customers' specifications in half the time and for half the price or less typically quoted by U.S. manufacturers.

Fred Morad continues to provide innovations and is totally committed to quality customer service with a personal touch, and a general sense of mutual trust between everyone who has had the experience of doing business with him.